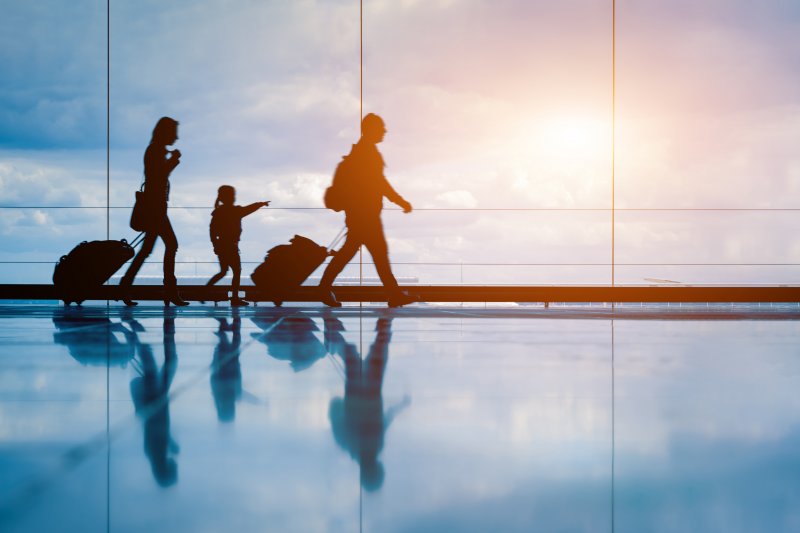 Traveling is an exciting part of life. Whether it's a vacation, a business trip, or visiting loved ones, many people have plans to cross borders or take long flights. If you've recently had dental implant surgery, you might wonder if you can travel successfully without compromising your oral health.
If you want guidance on when it's safe to travel after receiving dental implants, continue reading.
What Are Some Precautions I Should Take When Travelling With Dental Implants?
Travel may interrupt your regular routine somewhat, but if you just had dental implant surgery, you'll need to be more diligent. Here are some things to consider while travelling:
Oral Hygiene – Maintain your oral hygiene, even if you're on the road. Carry a travel-sized toothbrush, toothpaste, and dental floss to keep your mouth clean. This reduces the risk of infection around your implant sites.
Medication – If your dentist has prescribed any medications or antibiotics, make sure to take them as directed.
Diet – Be mindful of what you eat. While you can usually resume a regular diet after implant surgery, avoid hard, excessively chewy, or crumbly foods
Can I Fly After Getting Dental Implants?
Flying after dental implant surgery is generally safe. However, there are some factors to think about while planning your flight:
Healing Time – Before flying, consult with your dentist to ensure your implants have had sufficient time to stabilize. In most cases, this is approximately 7-10 days after surgery.
Swelling – Be aware that flying can sometimes aggravate the minor facial swelling that may come after surgery, especially if you're still recovering.
Air Pressure – Changes in air pressure during a flight may cause discomfort, particularly if you have just had surgery. Chewing sugar-free gum can help equalize the pressure in your ears.
What if I'm Going on a Long Trip?
If you're planning a more extended trip, it's best to wait 10 to 14 days to move past the initial healing stages. After that, consider the following:
Dental Checkup – Schedule a dental checkup before your trip to ensure everything is progressing well. See it as an opportunity to address any concerns or receive guidance on managing your implants while traveling.
Emergency Care – Research and make a list of dental clinics or professionals at your travel destination.
Carry Essentials – Bring along any dental care essentials you might need, such as a small mirror for self-examinations, saline solution for rinsing, and over-the-counter pain relievers.

Traveling after getting dental implants is possible if you take the right precautions and stay on top of your oral health routine. With the proper measures in place, you can enjoy your trip without worrying about the health of your implants. If you have any concerns about traveling after dental implant surgery, ask your dentist for advice and recommendations. Travel safely!
About the Practice
Dr. Mark R. Guillory has been practicing dentistry for over twenty years and is glad to help his patients restore their smiles and their confidence. He earned his dental doctorate at Meharry Medical College and has taken advanced courses in dental implantology at the Carl Misch Implant Institute and the Las Vegas Institute. To schedule a dental implant consultation at New U Dentures and Implants, call (281) 592-6398 or visit the website to learn more.