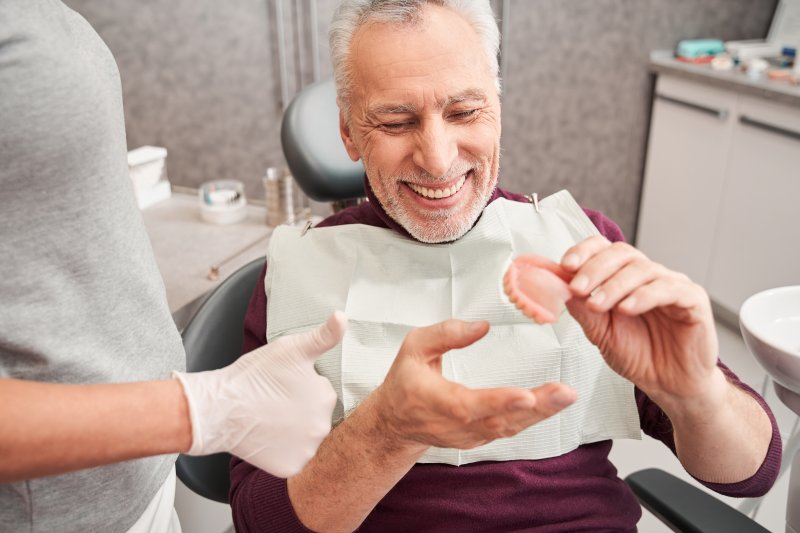 Those who are missing some or all of their teeth can easily and reliably restore their smiles with modern dentures. These prosthetics are incredibly durable and lifelike, meaning you'll be free to enjoy the advantages of having all of your pearly whites again! Still, since they aren't meant to last forever, you'll need to get them switched out eventually. Here are several ways you can tell if your dentures need to be replaced.
Loose Dentures
Your prosthetics should feel like they fit perfectly in your mouth. This means you'll be able to chew and speak comfortably due to the natural suction with the gums. In some cases, you might use adhesive to help keep them stable, but this should only be used for a temporary fix. However, if your dentures start to feel loose or about to fall out, then you may need to visit your dentist to get new ones that fit better.
Speaking with Your Dentures Is Difficult
This can become an issue if your prosthetics start to become loose or don't fit properly. Generally speaking, you can expect an adjustment period when first wearing your dentures as you'll need to grow accustomed to how they move. But if you're starting to slur your words and your new teeth just aren't staying in place for you to enunciate clearly, this could be an indication that a replacement is in order.
Uncomfortable Dentures
After some time and practice, your dentures should begin to feel increasingly natural in your mouth. Your dentist will specifically design your prosthetics to perfectly fit your unique smile, so you shouldn't feel any discomfort while wearing them. That said, if they're feeling painful or you're noticing sores and/or lesions in your gum line, then you'll want to schedule a visit with your dentist to fix the problem.
Damaged Dentures
Your dentures should be durable enough to withstand the pressures of daily chewing. This doesn't mean they'll be invulnerable to damage. If your prosthetics have become chipped, cracked, or broken, then you'll certainly want to get the issue fixed. Be sure not to wear them if they're damaged, as this can cause harm to your gums and soft oral tissues, making the situation worse.
Discolored Dentures
Though your dentures consist of artificial teeth, it doesn't mean they won't be susceptible to stains and discoloration. Whether your new pearly whites get darker over time or due to frequently consuming dark-colored foods/drinks, you might consider getting them replaced. This can help you avoid any unwanted attention to your smile, allowing you to feel confident about your appearance.
Don't hesitate to get in touch with your dentist if your dentures are beginning to change or lose their fit. By replacing them with updated prosthetics, you'll be free to show off your pearly whites again before you know it!
About the Author
Dr. Mark R. Guillory has well over two decades of experience providing essential and reliable dental care. He graduated with his dental doctorate from the Meharry Medical College in Nashville, TN, regularly seeks continuing education to refine his skills and is a member of several organizations like the Academy of General Dentistry, the Texas Dental Association, and the American Academy of Implant Dentistry. If you'd like to know more about caring for your dentures or need to replace them, feel free to visit our website or call 281-592-6398.