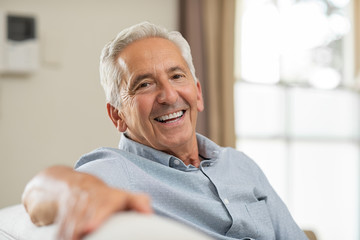 Dentures are a popular tooth replacement option that can fill in the gaps in your grin if you're missing several or all of your teeth. They are meant to fit snuggly against your gums to limit slipping while you eat, speak, and laugh. So, what does it mean if your lower denture won't stay in place? Continue reading to learn about a few potential causes as well as how to fix this issue.
Why Are Your Dentures Slipping?
When your lower denture keeps slipping out of place, this is often because they don't fit your mouth properly. Even if your dentures fit properly, they may still slip if you're new to using your prosthetic. There are a few other potential causes of a slipping lower denture, including:
Poorly designed dentures – Some patients opt to get cheaper dentures because they think it's a good way to save money. Unfortunately, these dentures are often not as well made and use materials that won't stand up to the test of time. This means that they may not fit your mouth as well as they should.
Changes to the jaw and gums – When you lose teeth, this causes the jawbone to begin to shrink and change shape due to lack of stimulation. Over time, this can affect how well your gums are able to support a denture.
Damage to the denture – Though dentures are pretty durable, they can still break or become warped. This may happen if you drop them or use overly hot water to clean them.
How to Fix Slipping Dentures
If your lower denture won't stay in place, talk with your dentist. Some options they might suggest for fixing your restorations include:
A denture reline – During this process, your denture will add material to their base so that it fits more securely. This can be completed in a single appointment.
Denture adhesive – Though natural suction is supposed to be adequate to keep your dentures in place, adhesive can provide extra stability until your dentist can adjust your restorations.
A new denture – If your restorations have been badly damaged or are of poor quality, you may need to have new ones made.
Implant dentures – These dentures are held in place by small titanium screws called dental implants that are surgically inserted into the jawbone. This keeps them in place so you can eat, laugh, and speak without worry.
About the Practice
Are you missing several of your teeth or your entire smile? If so, New U Denture & Implants is here to help. They offer a variety of different kinds of dentures, including full, partial, and implant-retained, to fill in your smile. If your lower denture keeps slipping, they can also get to the bottom of why and make adjustments to make your smile more stable. If you want to make an appointment with New U Denture & Implants or to learn more, call their office at (281) 592-6398 or visit their website.