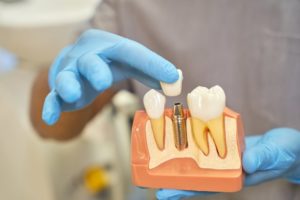 An estimated 170 million adults in the United States are missing at least one permanent tooth. If you're part of this statistic, then you're all too familiar with the difficulties that come from tooth loss, like lower confidence in your smile. But what about if you're missing a back tooth? Also called molars, the teeth toward the back of your mouth might not be visible when you grin, but they still need to be replaced once they're lost. Here's why you should definitely replace a missing back tooth and why dental implants are the best available solution.
The Risks of Not Replacing a Missing Back Tooth
Most people are understandably in more of a rush to replace a lost front tooth than a molar. However, even though you can't always see the molars, every single tooth serves a vital purpose in your oral health as a whole. If even one molar goes missing, a whole host of problems could ensue, including:
Difficulty chewing, which may limit your food choices and even lead to nutritional deficiencies.
Wearing down of the remaining teeth, as they have to bear the brunt of the chewing force that the now-missing teeth used to face.
Misaligned bite due to the adjacent teeth naturally drifting in an attempt to fill the empty space.
Chronic teeth grinding or even TMJ disorder as a result of bite misalignment.
Jawbone loss, which can cause the facial muscles to lose support and make you look older than you really are.
Why Dental Implants Are the Best Choice
When it comes to replacing lost teeth anywhere in the mouth, dental implants are by far the closest thing to having your original pearly whites back. In addition to bringing back the visible parts of the teeth, they also recreate the roots with titanium posts that are embedded in the jawbone. Because of their comprehensive structure, dental implants come with all sorts of benefits that other tooth replacements don't, such as:
Unmatched stability – The implant posts are made from biocompatible titanium, meaning the jawbone grows just as attached to them as it was to your natural tooth roots. So, you'll never have to worry about your new teeth slipping around like you would with dentures.
Lasting results – Their strong foundation in the jawbone makes dental implants capable of lasting for 30+ years on average.
Easy maintenance – To help dental implants last, you'll just need to brush and floss them like natural teeth (and visit your dentist for six-month checkups).
Younger appearance – By stimulating the jawbone, dental implants prevent the facial collapse that causes people to look older following tooth loss.
Whether your missing tooth is in the front or the back of your mouth, replacing it with a dental implant is the best option for most patients. Take the first step toward regaining a complete, healthy smile by calling your dentist today!
About the Author
Dr. Mark R. Guillory is a highly trained implant dentist in Cleveland, TX with more than 20 years of experience. At New U Dentures & Implants, he focuses on helping patients enjoy full smiles again after tooth loss. To that end, he's proud to offer state-of-the-art dental implants and perform every step of the treatment process himself for a convenient and affordable experience. If you'd like to replace your missing back tooth, explore your options by calling Dr. Guillory at (281) 592-6398.