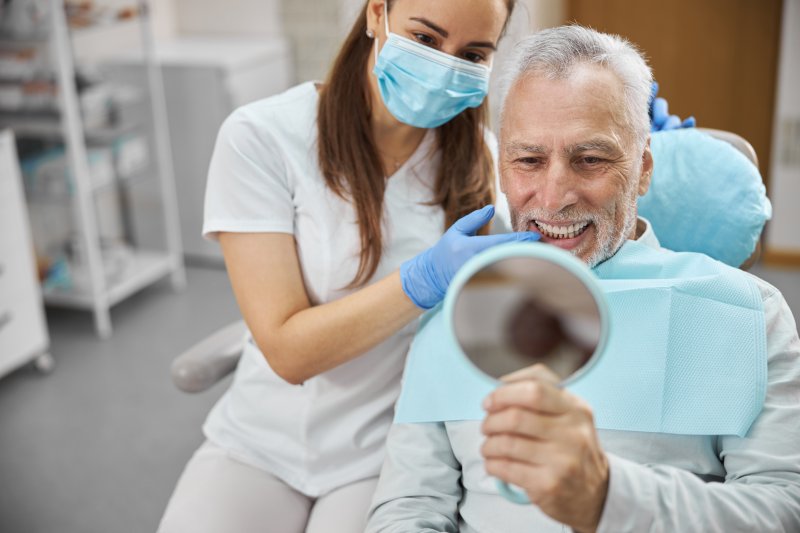 It's important to rest after having dental implant surgery. Your new replacement teeth are still settling, and you're likely facing some pain and soreness. Until such things stabilize, you need to take it easy. Still, you probably want to know how long this recovery should be. After all, you can only take so much time off from work. Your Cleveland dentist, fortunately, is here to answer your question. Read on to learn three things that'll affect how long you stay home from work.
Pre-Existing Medical Issues
Any medical issues (besides tooth loss) you have will play a role in your recovery from dental implant surgery.
Things like hormonal imbalances, a compromised immune system, or a history of substance abuse can trigger greatly delayed recovery times. Patients affected by such factors will want to allow several days or even a week after the procedure to return to their everyday routines.
Age, gender, and implant length can affect your rest time too. If you had a bone graft before placement, your jaw, teeth, and mouth would need even more leeway to adjust.
The Number of Implants Placed
As you might expect, how many implants you received will influence the time needed for a full recovery.
For example, let's say you got one or two. In that case, it won't take too long for you to heal. You could probably head back to work just a few days after the treatment.
On the other hand, getting three or more implants means a longer rest period. You'll want another one or two days to allow swelling, bruising, and other side effects to subside. If you don't, you'll have a harder time focusing on work rather than your discomfort.
Following Post-Op Instructions
Your dentist will send you home with post-op instructions regardless of your situation. You can minimize the time you need to heal by following them.
These instructions will likely tell you to:
Clean Your Mouth: Brush your teeth normally, though add a warm saltwater rinse. The latter will reduce the chance of post-procedure infection.
Have a Soft-Food Diet: Eat softer foods until your implants are better secured. Doing so will make implant failure less likely and save you some pain down the road.
Don't Smoke: Tobacco products will delay healing, cause infections, and limit your implants' long-term success.
As long as you're careful, you'll be ready to return to work post-surgery soon enough. Therefore, remember the factors above to keep that rest period small.
About the Practice
New U Dentures & Implants is based in Cleveland, TX. As led by Dr. Mark R. Guillory, the practice focuses on helping its patients restore their full smiles. To that end, its staff offers dentures, dental implants, tooth extractions, and other related services. New U will give you new pearly whites you'll love, whatever your tooth replacement needs. For more information or to book an appointment, you can reach them at their website or by phone at (281)-592-6398.